STAFFORD HEROES - Roxy
---
To: SBT_Forum@yahoogroups.com
Subject: Tomorrow's Inspiration for the Sake of a Child
Dear List,
I am still shaking as I write this story but have to share the most amazing thing I've ever witnessed. And of course it involves my Stafford, Roxy.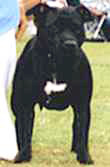 Roxy at age 17 months
I meet regularly with a couple neighbors for dog and kid play time. One gentlemen brings his 8 year old son, Tristen, and their golden retriever. My two Staffords, his golden and the three humans enjoy a good romp of soccer. Occasionally our other neighbors will join us with there Doberman and Siberian husky.
Tonight we were all playing at the park when a lady walked by warning us of a belligerent wanderer on the other side of the park. We laughed at her and told her to not worry, the man was probably just having a bad day, and don't bother calling the police.
The belligerent man did walk up to the group and was quite the obnoxious drunk. He was talking and grabbing at the dogs but none of us thought of him as a major threat and all the dogs just let him pet, pat, and tug at them. We asked him to please move on since he was a bit sporadic and we didn't want any problems. So the man obliged and walk away.
We resumed our soccer game and the young boy, Tristen, ran all around the park with the dogs and the ball.
He was about 20-30 yards away from us, and facing us, when the man suddenly turned around and started briskly walking toward him.
Us four adults got a little nervous and the boys father calmly called for Tristen to come back to us. Of course the boy hesitated, since his focus was the soccer ball, so we all started casually walking toward him. We didn't want to scare the boy so we stayed calm. But all of a sudden the crazy man ran and grabbed Tristen by the hair and started screaming profanities like: "F*** you all, this is my son and I know you murdered...so and so" and just crazy stuff and held the boy in his arms.
The boy began to scream and cry and the part of the story I'm about to tell shocked us all beyond belief. None of the dogs responded quickly or even at all except for my girl Roxy. She sprinted to the man and in less than three seconds was full on attacking him. I cannot explain the intensity that she attacked but needless to say the man immediately released the boy and Roxy was not fazed by his attempts to get her off of him. The neighbor grabbed the son and the father of Tristen preceded to clock the man. Roxy continued her stay, never once moving towards the wrong person, until I emotionally screamed "Roxy, STOP IT!".
Immediately she released and stepped back 6 feet. I did not have to hold her back or leash her since I was focused on Tristen (his father was busy with the crazy guy). The other dogs sort of stood there dumb founded and some of the them barked and growled but not even Tristen's own dog ran to his defense.
The lady who had first warned us of the man must have called the police, luckily, and they were there within 5 minutes after the incident.
It was quite wonderful to have the police tell me absolutely nothing was going to happen with my dog. He didn't even want my name. He said he had plenty of witnesses with the rest of the people and as far as they were concerned I was just a passer by who had saved the boy from a potentially dangerous and dramatic situation.
The crazy man was taken to the hospital to treat his wounds and head to a jail cell and Roxy came home to take a bath. It was absolutely amazing that she didn't even seem frazzled by all the commotion but continued her endearing behavior and had all 6 policeman oohing and awing over her, giving her belly rubs and receiving wet kisses.
We are going to visit Tristen tonight and Tristen's father asked if Roxy might even stay the night with him if he seems scared, which when I left the park he was still hysterical. She's always up for a good snuggle so I think she'll oblige. And I often wondered if my dog would really come through in an emergency since she's always such a lover...shame on me!
Roxy's kennel name is Tomorrow's Inspiration and I think it rather suits her. I hope to breed such brave and loyal temperament when it's my day to work on a breeding program.
Thanks to Roxy's parents, Tomorrow's Black Gold and Judael Summer Storm and breeder Scott Clark. Hopefully she made you proud tonight.
Wow, what a shocking night for a tired and emotional human!
Erin Newman