Country: AUSTRALIA
BSL: active and enforced.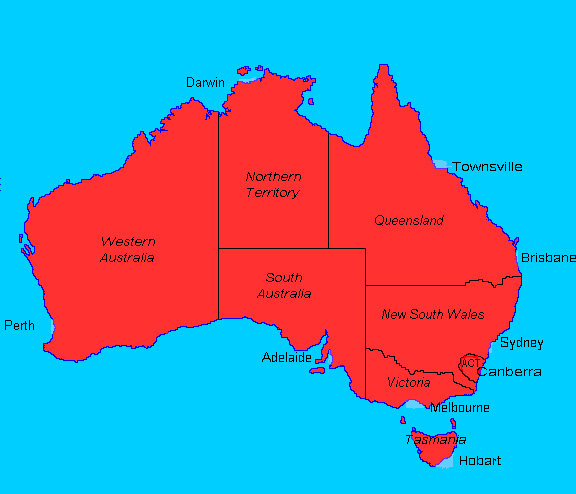 ACT | Queensland | New South Wales | Northern Territory
South Australia | Tasmania | Victoria | Western Australia
Australia has six self-governing states and two mainland territories. It also administers a number of island territories (Ashmore and Cartier Islands, Christmas Island, Cocos (Keeling) Islands, Coral Sea Islands, Norfolk Island) as well as the Australian Antarctic Territory and the subantarctic Territory of Heard Island and McDonald Island. Click here for a list of all Australian State and Territory Government web sites.
"Dogs of the following breeds are not eligible for importation into Australia: dogo Argentino; fila Brazileiro; Japanese tosa; and pit bull terrier or American pit bull."
See: A guide to importing dogs and cats into Australia.
See also:
Endangered Dog Breeds Association of Australia
Semen - Dog/cat (Import)
Importation of Disability Assistance Dogs
AQIS Information Sheet - Disability Assistance Dogs
NCCAW: Guidelines for Control and Responsible Ownership of Dogs
NCCAW: Protocol for Assessing Aggression in Dogs

Parliament of Australia
---
Anti-BSL/BSL Information:
Please submit anti-BSL web-sites, articles or contacts to Andrina Morton.
---
Media Links:
TV
ABC TV
Arena
Optus Network
WIN Television
Newspapers & Magazines
Australian, The
Weekend Australian, The
Internet News/Web Media
News.com
Press Agencies, etc.
Australian Associated Press
Australian Press Council
Dog Press/Web Sites
Dogz Online (web)
Oz Dog Magazine
Pets and Vets Magazine
---
Kennel Club:
Australian National Kennel Council
For full list of Australian Kennel Clubs/Canine Associations click here.
---
CIA World Factbook 2000 listing: http://www.odci.gov/cia/publications/factbook/geos/as.html
---
Rescue/Re-home Links:
Click here for world-wide Breed Specific Rescue links.
Animal Welfare in Australia - RSPCA
---
---
---
Revised - 2004-09-03 at 20:25:33 PST