Staffordshire Bull Terrier

Welcome to the StaffordMall, the Staffordshire Bull Terrier site that spans the international Stafford scene. We offer up-to-date news, insider's scoop and feature articles by eminent breed writers on myriad subjects, including the history, breeding, training, feeding, care and conditioning of the Staffordshire Bull Terrier.
Among our some 200 pages of material, you'll also find dozens of pedigrees, interviews with Breed veterans, and insight into the best people dog on earth. Enter StaffordMall.com and discover "One of the finer things in life" - the Staffordshire Bull Terrier. -- come join the fun!
What's here? Just about everything (plus favorites from the original Stoutheart site and The Stafford Exchange) including:
Extensive pedigree collection.
Breeders Directory.
SBT Forum E-mail List.
The Whelping Box.
Speaking From Experience: by Steve Stone
Exercising your Stafford.
Stafford health issues.
And many more features...
BSL FIASCO!
A comprehensive series
Breed Specific Legislation (BSL), the lazy politician's simple-minded solution to a complex human/canine problem, has never worked and never will work. Get the real skinny at... Written in Stone.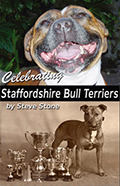 Limited supply of Steve Stone's book "Celebrating Staffordshire Bull Terriers" available here.
Go here to read more and order your copy!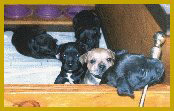 "Give me that poker."
Stafford puppies due late April, 2015!