~ Steve Stone's Books ~
The Staffordshire Bull Terrier Story
By Steve Stone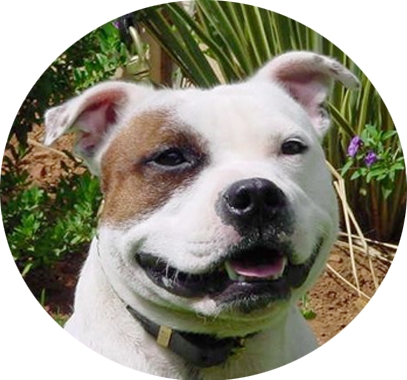 Marathon Press
WORLD'S FIRST E-BOOK ON STAFFORDS
---
Written and compiled by the founder of the SBT movement in Finland (1964) and the USA (1967). Deals with Breed history and development in England, Australia, Canada, New Zealand, Finland, Poland, and the USA with additional chapters on Stafford genetics, BSL, Rescue, the all-purpose Stafford, the Breed Standard, and the true nature of the Stafford.
Contributing Authors:
Les Aspin, Linda Barker, Candy Beauchamp, Malcolm Boam, Wlodek Cloc, Glenn Consadine, Karyn Dawes, George Goddard, Abe Harkness, Jo Hemstock, Sarah Hemstock, Juanita Hobbs, Gerry Holmes, Joe LeBlanc, Squibs Mercier, Terry Mueller, MarlaneParra, Vic Pounds, Jean Richardson, Harry Rodeheaver, Irma Rosenfield, Dr. Ellis Ruby, Alissa Romaine, Sandra Smid, Colin Smith, Carolyn Stewart, Terry Stewart, Bob Whittall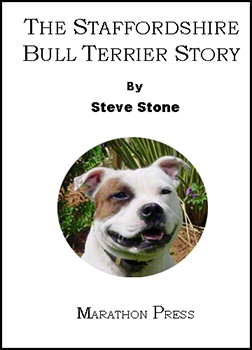 303 pages, 212 photos, including historical photos from John F. Gordon's six personal albums and contemporary color photos from around the world. (The SBT Story photo album on-line here!)
Read what others are already saying about the eBook:
"The SBT Story is filled with anecdotes and opinions from old timers and long-established enthusiasts. We were delighted by the seemingly endless number of Stafford pics from John F. Gordon's personal collection. Then again how else are you ever going to see pictures of Brindle Bill and Emden Camille? You also get detailed accounts of SBT history from Australia, New Zealand, South Africa, Canada, and the USA. It was a pleasant surprise to see a picture of Marion Forester (Loggerheads NZ) who bred Loggerheads Penkridge, our all-time favorite dog from which our pup descended." - - - Robert Kung and Sharon Treadgold
"I am mainly interested in the history of the Breed along with the perspective of old-time breeders and respected fanciers. I really enjoyed the section on Veterans' Views. The angle approaching the subject from the human side is exactly what I enjoy reading about. I also am grateful for having such a fabulous reference on topics like breeding principles and BSL." - - - Kathleen A. Neff
---
DOWNLOAD A FREE PREVIEW IN PDF FORMAT
The Staffordshire Bull Terrier Story - Free Sampler PDF
---
And more reviews:
"I read The Staffordshire Bull Terrier Story in a remarkably short time for one reason: I could not stop! For any fancier (old timer/newcomer) or even a casual admirer of this wonderful breed I cannot emphasize enough the absolute NEED to own and read this material.
From the early history and development of the breed to the absolutely fascinating chapters on genetics and the "all purpose" nature of the breed to the wonderful pictorial aspects of the book which illustrate the breed as it has developed, this book covers every imaginable aspect from an historically accurate while at the same time being a great and easy read.
Fortunately this is not a "dumbed down" version of the historical and genetic development of one of the most most wonderful breeds this world has ever known. The Stafford deserves a book of this caliber." - - - Damon Folmar
"A wonderful initiative to amalgamate interesting and highly relevant historical information on Staffords sourced from some of the major Stafford-breeding countries in the world today. For anyone interested in the origins, and expansion of the breed from the UK to places further afield, it is a must-read". - - - Huntly Pringle
Partial List of Stafford photos
A partial list of the photos contained in the book. Many never published before.
Another Brinsley Lad, Bandits Belle-lettres, Bandits Brillanda, Bandits Brindadulci, Bandits Brindaroya, Bandits Brindle Barkini, Bandits Firestreak Red Rover, Bandits Girl Patsy, Bandits Towans Lord John, Bandits Wirswall Judy the Gamest, Bearcats Bellamour, Bearcats Belle Beguile, Brindle Bill, Brinngarry Dangerman, Brinstock Sandy Bridget, Brown Jack, Cardinal Tabot, Castlebanks Bomber, Ch Airdstock Kate Kelly, Ch Alerick Cry Havoc, Ch Alerick Jessame Jack, Ch Angusstaff Pied Princess, Ch Betchgreen Bargee, Ch Black Tusker, Ch Borstaff Bizzy Lizzy, Ch Borstaff Hanky Bannistser, Ch Brasshead Dream Machine, Ch Brown Bomber of Westmax, Ch Buccaneer Shoemaker, Ch Budmarsh of Tarlair, Ch Challenger Barbri Lass, Ch Christopher Geneva, Ch Constones Ballyhill Bruce, Ch Constones Cadet, Ch Crossbow Emma Peel, Ch Crossbow Fire And Ice, Ch Della of Impkin, Ch Double Diamond of Bergscarl, Ch Eastaff Danom, Ch Eastbury Lass, Ch Fearless Red of Bandits, Ch Fiona's Beauty, Ch Fredante, Ch Fulfin Black Hawk, Ch Ganglands Stone Duke, Ch Gilcroft Guardson, Ch Goldwyn's Leading Lad, Ch Guardstock Red Atom, Ch Head Lad, Ch Hellstonion Hi Ransom, Ch Highbourne Bo Derek, Ch Invincerbell Rosas, Ch Jolihem Dreadnought, Ch Jolihem El Toro, Ch Jolihem Ringmaster, Ch Kurnpowe Charity, Ch Lady Eve, Ch Landaulad Algernon, Ch Lestaff Sally Viver, Ch Linda of Killyglen, Ch Loggerheads Gewalt, Ch Loggerheads McMichael, Ch Lydes Jaguar/Linksbury, Ch Megliam Bronx Bull, Ch Moti, Ch Mountainash Xmas Ajax, Ch Mountainash Xmas Aray, Ch Nordic Chief, Ch Nuneaton Dinah, Ch Parkstaff Colonial Boy, Ch Pitshaft The Forester, Ch Rapparee Hard Case, Ch Reigate Satin Doll, Ch Rikskarry Demolition Man, Ch Sahib Of Senkrah, Ch Sandra's Boy, Ch Scarthwaite Coachman, Ch Scarthwaite Rema, Ch Southstock Pot Black, Ch Southwark Broadhead, Ch Spaceline Mad Max, Ch Spadille Sandawana Satan, Ch Steffanjax Back Jake, Ch Suprasound Vanilla Ice, Ch Tawny of Dugarde, Ch Tenacious Just Kidding, Ch Tenford Baldrick, Ch The Black Monarch, Ch The Ulster Immigrant, Ch Thornhill Pride, Ch Toptaurus Carlena, Ch Toptaurus Croweater, Ch Towans Merry Maid, Ch Tykeabull Heard The News, Ch Ulay Black Regent, Ch Ulay Winston Taurus, Ch Visstaff Invincible Mile of Chassuki, Ch Wardrum Made Tperfection, Ch Warmaster Thundahead, Ch Waurstaff Great Guy, Ch Wellwisher of Wystaff, Ch Weycombe Timothy, Ch Widneyland Kim, Ch Widneyland Panda, Ch Zeracious Pumbahee, ChEastaff Likely Lad, Curfews White Orchid, Daynara Bella, Desert Flame, Digby, Dynamite Gin Rickey, Emden Camille, Emden Challenger, Foreclip Sir Bedivere, Fortunate Son, France 1910, Game Lad, Godella's Pride, Jock of the Bushveld, John Gordon, Jolly Roger, Judy, Loggerheads Hengist, Margot of Rossisle, Mountainash Xmas Anna, Nitemarch Nashville Lady, Oky Boy, Pat The Boy, Patty's Donna Prima, Patty's Oky Tanner, Piltdown Bill of Truestaff, Raynan Jasper, Red Ralli of Bandits, Rocket, Rossisle Merely A Monarch, Sallie Ann Jarrett, Sheffield Fred, Tania of Tottington, The Great Bomber, Tinkinswood Imperial, Towans Lady Penelope, Towans Red Knave, Trelawny of Tottington.
---
Five of the 212 photos in "The Staffordshire Bull Terrier Story"
England: Herding sheep

First US Stafford rally, Feb 4, 1968

Left to right kneeling: Eva-Marie Stone; Judy Venable; Maini Stone & Bandits Firestreak Red Rover: Steve Stone & Bandits Belle-lettres; Mark Stone; Betty Crowther & Towans Red Knave; Susie Crowther; Jack Harrison & Lady Penelope of Bankdams; Larry Rant and Tinkinswood Imperial; Lillian Rant & Bearcats Bellamour. Standing: Helen Liversidge; Don Venable
---
| | | |
| --- | --- | --- |
| South African Ch Magliam Bronx Bull whose name appears in most South African pedigrees today. | New Zealand Grand Champion Alerick Jessame Jack | Alicia Romaine's "Jazz:" Flyball seems a sport specially made for Staffords. |
---
NOTES FOR SBT STORY
This file is encrypted so that the purchaser may print the entire document but not make changes or extract any content matter.
"The Staffordshire Bull Terrier Story" was designed for reading in "Facing Pages" format found under the "View" menu of Acrobat Reader. This means that the reader may view two pages at once on a larger monitor, but those with smaller monitors may prefer to read it in single-page format.
In a book of this scope, errors are bound to occur despite all efforts to the contrary, so the author would be grateful to receive input regarding mistakes, omissions, or other errata via email, snail mail, or telephone.

Celebrating Staffordshire Bull Terriers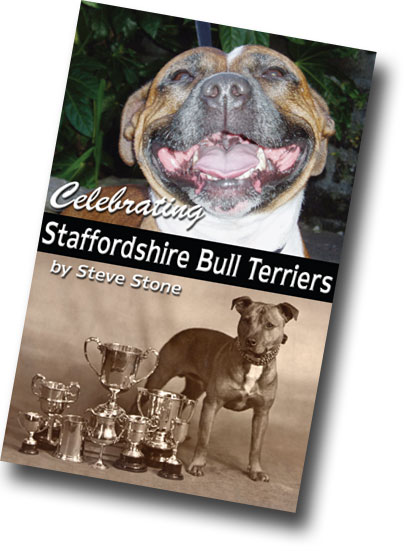 ISBN 0-9552251-2-3
by Steve Stone.
Published 2007 - 256 pages, illustrated.
Hardback with dust jacket plus free CD-ROM $36.95 + shipping (USA & Canada) or £16.99 + P&P (rest of the world).
Secure online ordering for this and other Pynot Publishing publications go to: http://www.pynotpublishing.co.uk/.
---
Although Steve Stone's name sits on the cover, authors from around the world lend this book and its accompanying CD-ROM not only length and breadth but substance. In alphabetical order, they include Les Aspin, Linda Barker, Candy Beauchamp, Malcolm Boam, Wlodek Cioc, Glenn Consadine, Karyn Dawes, Cheryl Ellicott, George Goddard, Abe Harkness, Jo Hemstock, Sarah Hemstock, Juanita Hobbs, Gerry Holmes, Julie King, Andrea Kitchen, Joe LeBlanc, Squibs Mercier, Terry Mueller, Jason Nicolai, Marlane Parra, Vic Pounds, Jean Richardson, Harry Rodeheaver, Alissa Romaine, Irma Rosenfield, Dr. Ellis Ruby, Sandra Smid, Colin Smith, Carolyn Stewart, Terry Stewart, George Urbanski, and Bob Whittall.
This book also features original illustrations by Marion Field and a generous selection of photographs – most of which have never previously been published – from John F. Gordon's personal albums, courtesy of Joe LeBlanc. This book not only celebrates the proud history and sheer versatility of the Breed, every word on every page is devoted exclusively to the cause of the Stafford, including the problems encountered by Breed Rescue and the menace of Breed Specific Legislation (BSL) which mindless politicians seem intent on imposing on the dog-loving public in the face of overwhelming evidence of its ineffectiveness.
Tired old generic material (puppy raising, diet, whelping, etc.) has been intentionally omitted.
Contents:
The True Nature of the Stafford (public Stafford, private Stafford)
Following the Ancestral Trail
A Stafford Renaissance (by Vic Pounds)
Veterans' Views (Staffords come into their own)
The Stafford Athlete (More than just a pretty face!)
A Foremost All-Purpose Dog (You name it and Staffords can do it!)
Breeding Principles and Practices
Quo Vadis, Mrs. Stafford? (Pathways to the breed's future)
Stafford Rescue (The high price of Breed popularity)
Birth of the BSL Blues
Seizing BSL by the Throat
Snips and Snails and Staffordshire Tales (Stafford anecdotes)
Additional Content: A free CD-ROM attached to this 256 page book contains more than 300 pages featuring hundreds of full-colour photographs from every nation around the globe where Staffords have become firmly established away from the Breed's UK heartland. Additional bonus material also appears within the disc's contents.
Steve Stone imported Finland's first Staffordshire Bull Terrier in April 1964 and was co-founder of the SBT Club of Finland. Returning to the USA in 1966, Steve founded the SBTC/USA and Registry 1967, beginning the drive for entry into the AKC.
Read what people are already saying about Steve Stone's Celebrating Staffordshire Bull Terriers: "The photos bring back many memories of both personalities and Staffords... There are parts which will be of interest to serious students of the Breed and those wanting to know more of the history, yet there are light-hearted stories and reminisceneses for others and lots of photos." - Mary Pringle, Dog World
"Like the early authors John Gordon and Major Count V. C. Hollender, this book spans generations of history with information that entertains as well as enlightens. Steve Stone's approach is multi-layered and deals with issues as current as the daily news and problems as old as the breed. This book has it all." - Carolyn Stewart, The StaffordMall.com
"A very refreshing addition to what has been written previously about our breed. Something to be written about, talked about, argued about and even disagreed about, but essentially, something to 'think about' as it portrays so much which is where the place of the Stafford stands in this, the beginning of the twenty first century." - Jim Beaufoy (Wyrefare), Bewdley, UK
"Many books have been written about the Staffordshire Bull Terrier from Beilby to my own book. All of them set out with a specific aim and now Steve Stone has undertaken to paint the broad canvas which sets the book aside from anything that has gone before and he has made a success of it. The book is well-illustrated and written in a readable style, and I enjoyed it. I set out to skim through it and ended up reading it from cover to cover. Recognizing that you can't put a quart in a pint pot, Steve has prepared a mass of material which can be accessed through computers. Again, something new and something needed. Apart from a good read, it is a valuable resource for anyone's bookcase." - Alan Mitchell (Hoplites), Newquay, UK
"I've read many, perhaps most, of the Stafford books that are available and Celebrating Staffordshire Bull Terriers is like no other. It truly is as the title suggests a celebration of the breed from the sad stories of the dogs that end up in rescue to the tales of heroism and athletic prowess. Every Stafford owner will be able to identify in some way with the stories it contains, well done." - Peter Richards (Gunscrossed), Clacton, UK
"The book offers twelve chapters covering a variety of topics that will engage breed newcomers and veterans alike. Steve was wise enough to include the recollections of breed elders like Vic Pounds, Les Aspen, Sara Hemstock, and many others - - and diplomatic enough to embrace a diversity of international authors on subjects ranging from genetics to flyball. But it is Steve's own writing I found most engaging. His research is admirable, his strong opinions are generally supported by evidence, and he forcefully supports the breed Standard as it was written and intended. My favorite chapter, however, is The Stafford Athlete. As a fervent admirer of the Breed and as an AKC judge, nothing except temperament is more important than the breed's native athleticism. Steve emphasizes this over and over. I can't thank him enough.
Celebrating Staffordshire Bull Terriers is filled with historic and contemporary black/white images, but it is less about graphic presentation and more about quality information. Its publication comes at a critical juncture not just for the Stafford but for all breeds, and the author's willingness to tackle critical issues like over breeding, rescue and BSL add to its value as a book that belongs in every Stafford lovers library. Highly recommended" - Steve Eltinge, California, USA
"Celebrating Staffordshire Bull Terriers is a must-have for any Stafford owner and follower of the breed. It is informative, humorous and heartbreaking. It brings the breed right into the home, where it belongs." - Dave Tate, Alberta, Canada
"Steve Stone captures the true nature and character of the breed in a complete way with illustrations and stories that truly entertain. This book is an educational tool for old and new fanciers alike. The photos included in this book are a real treasure. This is a must read for anyone interested in Staffordshire Bull Terriers." - Sabrina Vance, Arizona, USA
"Just as the Stafford is a foremost all-purpose dog, Celebrating Staffordshire Bull Terriers is a foremost all-purpose Stafford book. If history is one's interest, the book covers past, present, and even future. If it's breeding and showing Staffords, that too is well covered. Stafford stories? You bet, and some of the best tales of friendship, courage and intelligence I've ever read. And then there are the photos! The book contains a wonderful collection of historical and recent photos detailing the history and conformation of Staffords with anecdotes of some of their notable owners. But one theme seems to run constantly through the text: the Breed's superb temperament, particularly its undying love of children throughout its entire history." - Donald Coombs, California, USA
"Mr. Stone's book helps to make me feel connected to the history and people behind these incredible dogs! This is a very important book, and every Stafford owner/breeder should read it." - Pete Marsh, Alaska, USA
"What a pleasant change not to have half the book cluttered with breeding/feeding/rearing material we've all read before. The photos are truly amazing. So many old bruisers (the dogs) and veterans (the men and women) of the past that I've never had the pleasure of seeing before. The stories told are amusing, amazing and yes, sometimes sad and brutal. But all of them are told with clarity and sympathy by someone who obviously knows what the true Stafford really is." - Caryll Comley, UK
"This book is a awesome read. I enjoyed every bit of it. The book has valuable information for those that are interesting in getting a SBT, the first time owner, and those that have been in the breed for years. The book covers everything from the breed ancestry to the growing issue of BSL. My personal favorite part of the book is Mr. Stone's "Notes for the Newbies," it's a awesome self check for the intentions of the owner, breeder and fancier! GET THIS BOOK IN YOUR COLLECTION!" - Calvin S. Murphy, Alaska, USA
"I became interested in this book right immediately upon hearing about it, yet it exceeded all my expectations. It ranges from Stafford history to agility, from breeding principles to "Notes for Newbies," which makes it a true must-read for all new owners. It would have been most useful when we got our first Stafford. I find the book easy to approach and, due to its clarity, needed information is easily located. Even though the book celebrates Staffords, it deals in detail with problematic situations the Breed faces today. It was heartbreaking to read the stories of the rescue dogs and infuriating to read about Breed Specific Legislation in some parts of the world. Fortunately, here in Finland we don't have that particular problem. This book enabled me to understand, for the first time, the scope of this subject. It goes without saying that I was much impressed with the segment titled "Follow the Finnish Ensign. This book is a must-have for all SBT owners." - Jani Järvenpää, Pori, Finland
"I have learned more about Staffords from reading Steve Stone's book than all the other material read in the course of 25 years since I saw my first Stafford. Steve brilliantly describes in detail the true nature of the Stafford and its abilities, not only from his own experience but from that of many other veteran Safford owners as well. It is a joy to read and inspires an even greater appreciation for this wonderful Breed with which I am privileged to share my home." - Sabrina Vance (Oldetyme Staffords), Arizona, USA
"American scribes of the Breed have produced little in the way of books on the Staffordshire Bull Terrier. In fact, the titles could fit easily on a small one foot shelf with room to spare. In publishing his new title, CELEBRATING STAFFORDSHIRE BULL TERRIERS, Steve Stone had succeeded in creating something new. Rather than incorporating a Breed book's expected chapters on breeding, rearing, and a short spin through history, he celebrates the heart and spirit of our Breed by touching on its diversity, many talents, and history while emphasizing how we must work to preserve its future in the face of Breed Specific Legislation and other threats. This book is - above all - about the dogs, and it presents its material beautifully by incorporating personal accounts, facts, and hundreds of photographs, some never before seen. In addition, the 256-page hardcover book comes with a CD-ROM packed with 300 pages featuring hundreds of full-color photographs of Staffords from around the world. It's an earnest endeavor and a gift to the fancy in dozens of warm and knowledgeable voices - - a tome with a heart big enough to match those beating in the stout little chests of our dogs. This is a high-quality book that belongs in the library of every Stafford fancier and nanny dog lover worldwide." - Michael Taylor, former editor of Staff Status, USA