The Staffordshire Bull Terrier Story
By Steve Stone
Marathon Press
WORLD'S FIRST E-BOOK ON STAFFORDS
---
Written and compiled by the founder of the SBT movement in Finland (1964) and the USA (1967). Deals with Breed history and development in England, Australia, Canada, New Zealand, Finland, Poland, and the USA with additional chapters on Stafford genetics, BSL, Rescue, the all-purpose Stafford, the Breed Standard, and the true nature of the Stafford.
Contributing Authors:
Les Aspin, Linda Barker, Candy Beauchamp, Malcolm Boam, Wlodek Cloc, Glenn Consadine, Karyn Dawes, George Goddard, Abe Harkness, Jo Hemstock, Sarah Hemstock, Juanita Hobbs, Gerry Holmes, Joe LeBlanc, Squibs Mercier, Terry Mueller, MarlaneParra, Vic Pounds, Jean Richardson, Harry Rodeheaver, Irma Rosenfield, Dr. Ellis Ruby, Alissa Romaine, Sandra Smid, Colin Smith, Carolyn Stewart, Terry Stewart, Bob Whittall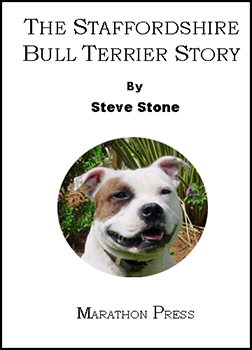 303 pages, 212 photos, including historical photos from John F. Gordon's six personal albums and contemporary color photos from around the world.
Read what others are already saying about the eBook:
"The SBT Story is filled with anecdotes and opinions from old timers and long-established enthusiasts. We were delighted by the seemingly endless number of Stafford pics from John F. Gordon's personal collection. Then again how else are you ever going to see pictures of Brindle Bill and Emden Camille? You also get detailed accounts of SBT history from Australia, New Zealand, South Africa, Canada, and the USA. It was a pleasant surprise to see a picture of Marion Forester (Loggerheads NZ) who bred Loggerheads Penkridge, our all-time favorite dog from which our pup descended." - - - Robert Kung and Sharon Treadgold
"I am mainly interested in the history of the Breed along with the perspective of old-time breeders and respected fanciers. I really enjoyed the section on Veterans' Views. The angle approaching the subject from the human side is exactly what I enjoy reading about. I also am grateful for having such a fabulous reference on topics like breeding principles and BSL." - - - Kathleen A. Neff
---
DOWNLOAD A FREE PREVIEW IN PDF FORMAT
The Staffordshire Bull Terrier Story - Free Sampler PDF
---
And more reviews:
"I read The Staffordshire Bull Terrier Story in a remarkably short time for one reason: I could not stop! For any fancier (old timer/newcomer) or even a casual admirer of this wonderful breed I cannot emphasize enough the absolute NEED to own and read this material.
From the early history and development of the breed to the absolutely fascinating chapters on genetics and the "all purpose" nature of the breed to the wonderful pictorial aspects of the book which illustrate the breed as it has developed, this book covers every imaginable aspect from an historically accurate while at the same time being a great and easy read.
Fortunately this is not a "dumbed down" version of the historical and genetic development of one of the most most wonderful breeds this world has ever known. The Stafford deserves a book of this caliber." - - - Damon Folmar
"A wonderful initiative to amalgamate interesting and highly relevant historical information on Staffords sourced from some of the major Stafford-breeding countries in the world today. For anyone interested in the origins, and expansion of the breed from the UK to places further afield, it is a must-read". - - - Huntly Pringle
Partial List of Stafford photos
A partial list of the photos contained in the book. Many never published before.
Another Brinsley Lad, Bandits Belle-lettres, Bandits Brillanda, Bandits Brindadulci, Bandits Brindaroya, Bandits Brindle Barkini, Bandits Firestreak Red Rover, Bandits Girl Patsy, Bandits Towans Lord John, Bandits Wirswall Judy the Gamest, Bearcats Bellamour, Bearcats Belle Beguile, Brindle Bill, Brinngarry Dangerman, Brinstock Sandy Bridget, Brown Jack, Cardinal Tabot, Castlebanks Bomber, Ch Airdstock Kate Kelly, Ch Alerick Cry Havoc, Ch Alerick Jessame Jack, Ch Angusstaff Pied Princess, Ch Betchgreen Bargee, Ch Black Tusker, Ch Borstaff Bizzy Lizzy, Ch Borstaff Hanky Bannistser, Ch Brasshead Dream Machine, Ch Brown Bomber of Westmax, Ch Buccaneer Shoemaker, Ch Budmarsh of Tarlair, Ch Challenger Barbri Lass, Ch Christopher Geneva, Ch Constones Ballyhill Bruce, Ch Constones Cadet, Ch Crossbow Emma Peel, Ch Crossbow Fire And Ice, Ch Della of Impkin, Ch Double Diamond of Bergscarl, Ch Eastaff Danom, Ch Eastbury Lass, Ch Fearless Red of Bandits, Ch Fiona's Beauty, Ch Fredante, Ch Fulfin Black Hawk, Ch Ganglands Stone Duke, Ch Gilcroft Guardson, Ch Goldwyn's Leading Lad, Ch Guardstock Red Atom, Ch Head Lad, Ch Hellstonion Hi Ransom, Ch Highbourne Bo Derek, Ch Invincerbell Rosas, Ch Jolihem Dreadnought, Ch Jolihem El Toro, Ch Jolihem Ringmaster, Ch Kurnpowe Charity, Ch Lady Eve, Ch Landaulad Algernon, Ch Lestaff Sally Viver, Ch Linda of Killyglen, Ch Loggerheads Gewalt, Ch Loggerheads McMichael, Ch Lydes Jaguar/Linksbury, Ch Megliam Bronx Bull, Ch Moti, Ch Mountainash Xmas Ajax, Ch Mountainash Xmas Aray, Ch Nordic Chief, Ch Nuneaton Dinah, Ch Parkstaff Colonial Boy, Ch Pitshaft The Forester, Ch Rapparee Hard Case, Ch Reigate Satin Doll, Ch Rikskarry Demolition Man, Ch Sahib Of Senkrah, Ch Sandra's Boy, Ch Scarthwaite Coachman, Ch Scarthwaite Rema, Ch Southstock Pot Black, Ch Southwark Broadhead, Ch Spaceline Mad Max, Ch Spadille Sandawana Satan, Ch Steffanjax Back Jake, Ch Suprasound Vanilla Ice, Ch Tawny of Dugarde, Ch Tenacious Just Kidding, Ch Tenford Baldrick, Ch The Black Monarch, Ch The Ulster Immigrant, Ch Thornhill Pride, Ch Toptaurus Carlena, Ch Toptaurus Croweater, Ch Towans Merry Maid, Ch Tykeabull Heard The News, Ch Ulay Black Regent, Ch Ulay Winston Taurus, Ch Visstaff Invincible Mile of Chassuki, Ch Wardrum Made Tperfection, Ch Warmaster Thundahead, Ch Waurstaff Great Guy, Ch Wellwisher of Wystaff, Ch Weycombe Timothy, Ch Widneyland Kim, Ch Widneyland Panda, Ch Zeracious Pumbahee, ChEastaff Likely Lad, Curfews White Orchid, Daynara Bella, Desert Flame, Digby, Dynamite Gin Rickey, Emden Camille, Emden Challenger, Foreclip Sir Bedivere, Fortunate Son, France 1910, Game Lad, Godella's Pride, Jock of the Bushveld, John Gordon, Jolly Roger, Judy, Loggerheads Hengist, Margot of Rossisle, Mountainash Xmas Anna, Nitemarch Nashville Lady, Oky Boy, Pat The Boy, Patty's Donna Prima, Patty's Oky Tanner, Piltdown Bill of Truestaff, Raynan Jasper, Red Ralli of Bandits, Rocket, Rossisle Merely A Monarch, Sallie Ann Jarrett, Sheffield Fred, Tania of Tottington, The Great Bomber, Tinkinswood Imperial, Towans Lady Penelope, Towans Red Knave, Trelawny of Tottington.
---
Five of the 212 photos in "The Staffordshire Bull Terrier Story"
England: Herding sheep

First US Stafford rally, Feb 4, 1968

Left to right kneeling: Eva-Marie Stone; Judy Venable; Maini Stone & Bandits Firestreak Red Rover: Steve Stone & Bandits Belle-lettres; Mark Stone; Betty Crowther & Towans Red Knave; Susie Crowther; Jack Harrison & Lady Penelope of Bankdams; Larry Rant and Tinkinswood Imperial; Lillian Rant & Bearcats Bellamour. Standing: Helen Liversidge; Don Venable
---
| | | |
| --- | --- | --- |
| South African Ch Magliam Bronx Bull whose name appears in most South African pedigrees today. | New Zealand Grand Champion Alerick Jessame Jack | Alicia Romaine's "Jazz:" Flyball seems a sport specially made for Staffords. |
---
NOTES FOR SBT STORY
This file is encrypted so that the purchaser may print the entire document but not make changes or extract any content matter.
"The Staffordshire Bull Terrier Story" was designed for reading in "Facing Pages" format found under the "View" menu of Acrobat Reader. This means that the reader may view two pages at once on a larger monitor, but those with smaller monitors may prefer to read it in single-page format.
In a book of this scope, errors are bound to occur despite all efforts to the contrary, so the author would be grateful to receive input regarding mistakes, omissions, or other errata via email, snail mail, or telephone.
---
PURCHASE OPTIONS
If you wish to download the Staffordshire Bull Terrier Story, please click on the book cover or download link which will take you to the PayPal website where you may either open a free new PayPal account or use your existing account to pay US $19.67 for the 3.9-meg SBT_Story.pdf file. The document will become available for downloading after payment. (To view and read the SBT_Story.pdf, you will need Adobe Acrobat reader.)
DOWNLOAD THE eBook HERE: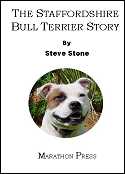 If you wish to purchase a hybrid (Mac/PC) CD-ROM disk of "The Staffordshire Bull Terrier Story", please click on the disk or purchase link below which will take you to the PayPal website where you may either open a new free PayPal account or use your existing account to send US $24.67 (US $19.67 for the disk plus US $5.00 for handling and shipping). Be sure to specify your name and complete mailing address. An invoice will be mailed with your disk.  (To view and read the SBT_Story.pdf CD, you will need Adobe Acrobat reader.)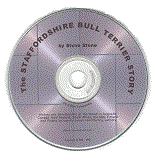 NO LONGER AVAILABLE