How I got my first Stafford
The Accidental Stafford
In June,1990, I started volunteer work for the Evanston Animal Shelter near Chicago, Illinois. I began as a dog walker and eventually worked my way up to Kennel Supervisor. As Supervisor, I was responsible for making sure the dogs were fed, watered and walked. I also cleaned cages and made sure the dogs got their medication.
At times the work was rewarding, but often it was drudgery. We walked an endless array of dogs through all kinds of weather. Then we had to deal with the loss of dogs who were euphemized, which took a toll on even the most dedicated of volunteers, myself included. It was in this environment that a most intriguing dog came into my life, a Staffordshire Bull Terrier.
In April, 1993, a small brindle dog was abandoned at the shelter. He was discovered tied to a fence when the warden arrived to work. He labeled him a Pitbull Mix, but the head of the volunteers was firmly convinced he was a "dwarf" Pitbull. One of the volunteers named the little dog Brando, because she thought he looked very serious, and his face looked kind of puffy like Marlon Brando in "The Godfather."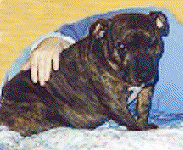 Sara Kaplan's "Brando," rescued from
the Evanston, Illinois, Animal Shelter
where Sara worked. Pedigree and registered
name unknown, but the real article nonetheless.
Brando had a loud, menacing bark for such a little dog, and many of the volunteers were reluctant to walk him. In fact, they wanted nothing to do with him. As Supervisor, it became my job to take him out, or he wouldn't be walked at all. I soon discovered a kinder, gentler Brando. Although he appeared to be very fierce in his cage, he became an entirely different dog once outside of the cage and beyond the confines of the shelter. He loved to go on walks, and he particularly liked walking in the empty lot across the street from the shelter. It had lots of trees and tall grass. He delighted in running through the grass and then lying on his back waiting for a tummy rub. He really seemed to enjoy human contact. The shelter had one old picnic bench for weary volunteers to sit and rest. I noticed that whenever I sat on this bench, Brando would invariably hop up in order to be able to sit right next to me.
I was really starting to like this dog but felt conflicted about making the commitment to take him home. As it turned out, I would have a lot of time to weigh my decision since Brando was as the shelter for two months. During this time only one potential adopter looked at him before deciding he wasn't the dog for her.
After much discussion on the home front, my husband agreed to come and see Brando. His first words were, "Oh, boy, what kind of dog is this?" I said I wasn't exactly sure, but that he was very sweet. Brando then greeted him enthusiastically, making those silly Stafford sounds that are so hard to describe but anyone who has a Stafford knows.
I wanted to bring Brando home as soon as possible, especially since we had recently discovered blood in his cage. We surmised this was from chewing on the bars, probably out of frustration. I got approval to take him home on a trial basis. I recall my excitement at bringing him home the first night. I had bought a special red collar for him just for the occasion. A fellow volunteer remarked that red was his color, and I had to admit it looked great against his mahogany brindle coat. Another volunteer helped me prepare Brando for the ride home. He actually tied him to the front seat in case he acted up in the car, but he behaved perfectly during the two mile ride home.
When I got home, my husband helped me get Brando out of the car and we took him into the back yard. Brando looked around tentatively as if to say, "Is this my new home?" Then we went inside where he checked out every room of the house, including the basement. He seemed pleased with the new surroundings and eventually settled in to sleep on a rug next to my bed. The very next night however, he jumped up and slept at the foot of the bed, a ritual he has done for the past five years. And yes, on occasion he has been known to hog the bed.
I decided to take Brando to the Vet, because he had only received minimal medical care at the shelter. My Vet informed me that he was not a "dwarf" Pitbull, but rather a Staffordshire Bull Terrier. Upon learning this, I bought a couple of breed books and tried to educate myself about the breed. Finding out about the breed was a bit like putting a big puzzle together. It was a challenge, but eventually a picture of the Stafford began to emerge.
Although the Stafford is not for everyone, we have found Brando to be a highly intelligent companion dog with a sense of humor. He's also a great protector and yet he is extremely affectionate with people and kids. He does not like other dogs, however, so he always has to be on lead. He requires a vigilant and responsible owner who is willing to spend time with him.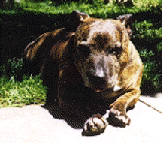 Brando has been with us for five years now and my husband says he can't remember a time when we didn't have him. He has fit into our lifestyle remarkably well. One could say we got our Stafford entirely by accident, but we feel very lucky to have found such a great dog. For us he is a perfect match.
Sara Kaplan
Chicago, Illinois