How I got my first Stafford
Staffords in Duluth, Minnesota?
My introduction to Staffords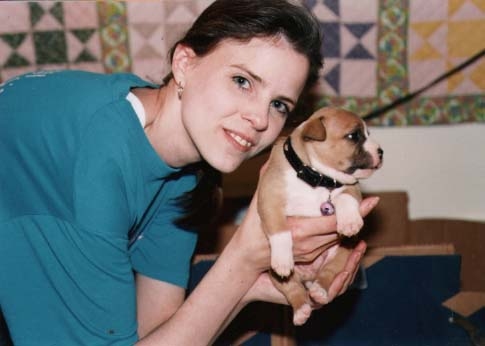 Kathy (me) holding Dexter wearing his first collar, 24 days old.
Just thought I'd tell you how I came to find a Staffordshire Bull Terrier in Duluth.
My parents own and run a company that makes high end awards. They have done everything from the etching on Olympic torches to huge custom made glass panels for private homes. We got into doing some local dog club awards and kept finding that more and more dog people just loved our products.
My mom and I went to a few dog shows as vendors and that is how I started studying breeds. I just wanted to know what I was looking at so I brought an old edition of the AKC breed book to shows in order to get more familiar with all of the wonderful breeds out there. In the edition I have there is a picture of three SBTs out in a field tied to a fence. Every time I looked through the book, this picture would catch my eye. I was very eager to see one of these fantastic looking dogs at the all-breed shows I went to but never did.
Finally one of my young flute students mentioned that she had a SBT and I almost flipped! I couldn't believe it. Her mom couldn't believe I even knew what one was. The girl's mom was so amazed that she called me at home and we talked for an hour about dogs. How very un-Minnesotan of us.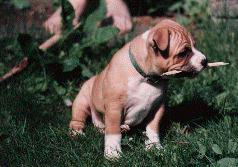 Dexter's first day in his new backyard holding a stick, 7 weeks.
To make a very long story short, the girl's mom and I became friends, and I got one of their puppies last May. This all started about four years ago so I have been trying to educated myself as much as possible. I have only been actively on-line for six months and have found the resources amazing.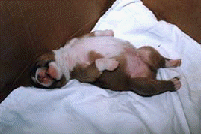 Baby Dexter on his back, 8 days old.
The on-line magazine was especially informative. After reading about the breed club's history, I understand how some of the things I have gone through to get Dexter could have happened.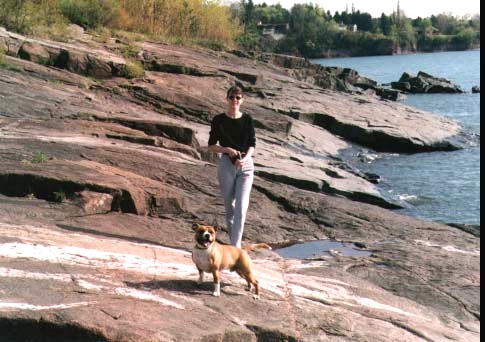 Kathy (me) and Dexter on the shore of Lake Superior, 15 months.
I am still very good friends with the owner of Dexter's mother. Life goes on, and it sure is better with a Staffordshire Bull Terrier.
| | | |
| --- | --- | --- |
| | | |
| Dexter resting with his kitty brother Clark. | Dexter visiting his mom, 13 weeks. | Dexter resting in Daddy's chair, 12 months old. |