~ Been there - Done that ~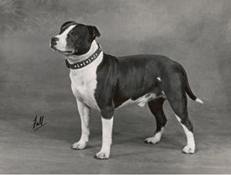 English Ch. Constones Cadet (photo left) was owned by Nap Cairns, long-time editor of The Stafford magazine in England in which he published it. When he visited me in Bellevue, Nebraska, in 1975 he confirmed that it was a true story.
Cadet was a dark brindle and white Stafford in the fifties, a bit larger than the then-new Standard called for. Nap had done everything possible with the dog, made him a champion at bench shows and a champion Companion Dog. It seemed that there were no new worlds for Cadet to conquer.
Then it occurred to Nap! He would make Cadet into the first-ever attack-trained Stafford! Nap contacted the RAF canine training school and was well received. On the appointed day, Nap and Cadet showed up for the first training session. An airman in padded suit and a trained Shep put on an exhibition of how it was done so that Cadet could observe and imitate. Cadet watched with fascination as the man in the padded suit seemed to threaten the Shep, and then on command the Shep ran, leaped up to grab the padded arm, and threw the attacker down. This scenario was repeated several times.
The RAF types told Nap to give it a try, so when the attacker ran forward in a threatening manner with his padded arm extended, Nap told Cadet to get him. Cadet leaped to the task and buried his fangs in the padded arm. But Cadet immediately dropped off the arm and returned to Nap with a quizzical expression as much as if to say, "Do you really want me to get this guy?"
The second try started like the first, so Nap gave Cadet the command. Cadet feinted at the upraised padded arm but without even touching it dropped to the attacker's feet and bit the man in his (unpadded) ankle.
And so ended the RAF's experiment at using Staffords for attack work.
Cadet lived a long and contented life.
There's a moral in there somewhere, folks!
Steve Stone